Appleton Crewel Wool Yarn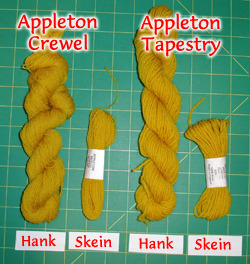 We stock all 421 colors of Appleton wools in both crewel (2-ply) and tapestry (4-ply). Price: $1.45 / skein or $7 /hank
note: crewel skeins are approximately 27 yards - crewel hanks are about 195 yards in length
tapestry skeins about 11 yards - tapestry hanks about 60 yards in length
Please indicate the 3-digit color numbers you want in the text box of the order form.
Please follow this link to find an online color chart

Online Ordering is Secure!
Appleton Club
Our Appleton Club is now available in both the crewel and tapestry as well as skeins and hanks. Club members will receive 35 skeins per month for just $39 (shipping is included in that price). By the end of the year, you'll have all 421 colors. Your skeins will be mailed out on the 10th of every month for one year. If you want all your skeins sent at once, the cost will be $489. - that is $100 off the price of buying them individually plus you get free shipping.
There is now an option to get the Club shipments in hanks (195 yards) rather than in skeins (27 yards). Hanks normally sell for $7 each, but with the Club you pay $189 per month for 35 hanks ($56 less than buying them individually). You may also opt for all the hanks to be sent at once for $1949 ($1000 off the cost of buying all of them individually and bringing the cost down from $7 a hank to $4.63 a hank) - no shipping charges for either.
There is no cost to join and you can join anytime, but you must commit to a full year to be eligible for the discounts.
Please click to send e-mail saying you want to join the club. I need your
address, what type of yarn, and hanks or skeins.
Please follow this link to find an online color chart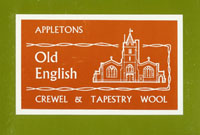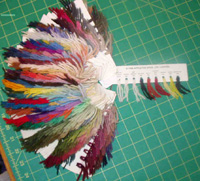 A box of color cards is available for purchase.
It has snippets of all 420 colors available from Appleton. Price $45
The same color cards without the box $35
Online Ordering is Secure!